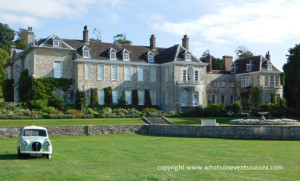 This year the vintage fair will be on August 12th and 13th and for the first time includes the Night Garden, a vibrant jazzy vintage inspired evening with performers featuring live music & dancing under the stars and Camping. For details of all the packages available and ticket prices visit the Firle Vintage website 
Here's is a look back to our visit last year….
Picture yourself in the grounds of a beautiful stately home, which forms the backdrop to dozens of classic cars from across the years. Make a quick 180 degree turn and soon you will be wandering around stalls offering an array of items from reclaimed furniture to vintage magazines. Firle Vintage Fair has grown year after year to become an eclectic mix of new and old with the underlying feel of stepping back in time.
It was a warm summers afternoon when we arrived and after several hours visiting the stalls and chatting with stall holders, a chilled cider from Long Man Brewery, whilst sitting on hay bales, came as a much needed pause to the day's activities.
Plenty of choice to eat, although be prepared to queue at peak times as demand was high and by mid afternoon many of the suppliers had sold out of their most of their dishes, which we several people complained about – So suppliers grab an extra pair of hands at peak times next year and keep the specials coming – you will make
a killing when your competitors have run out !
Music and dancing continue throughout the afternoon on the stage and as you walked around musical elements from across the decades were evident – from vinyl records to band posters – even local 'pop up gin bar ' Gin & Bear It brought an authentic feel with both their clothing and 78s playing on a gramophone (ask your parents/grandparents if you have no idea what a 78 is!)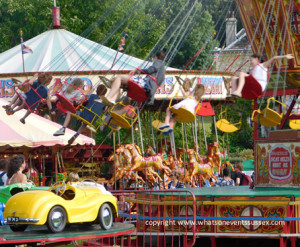 Whilst the event is very much for those who enjoy browsing stalls, there were many families and the kids were kept occupied with a funfair from the Harris family, puppets, face painting and even a chance to join in an learn to Charleston !
The selection of products on sale meant that there would be something that grabbed your attention and prices to suit everyones budget – from Bath Bombs by Willis and Co to a bespoke build from Nightingale Shepherds Huts, the choice available covered the spectrum.
With the continued trend for fairs and  everything 'vintage' am sure this event will continue to flourish each year . For more photos from the day visit our facebook  or instagram